Last updated on December 26th, 2018 at 12:56 pm
The Instant Pot is more than a "craze" now. Everywhere you turn, you see talk-show hosts and news anchors doing segments on this "new device" that's "sweeping the nation!" And with good reason.
People are just now starting to hear about the benefits of pressure-cooking as a way to cook delicious and healthy meals without having to stand over a stove. You've probably heard from more than one friend about how much they love their "Instapot."
But the truth is, the Instant Pot has been around a few years, and pressure cooking for ages. But this ain't your grandma's pressure cooker! The Instant Pot is a safe, easy cooking method, and the company is constantly refining and improving the technology and releasing new models.
But that's creating confusion for new customers shopping for an Instant Pot, and probably why you're here to read this article!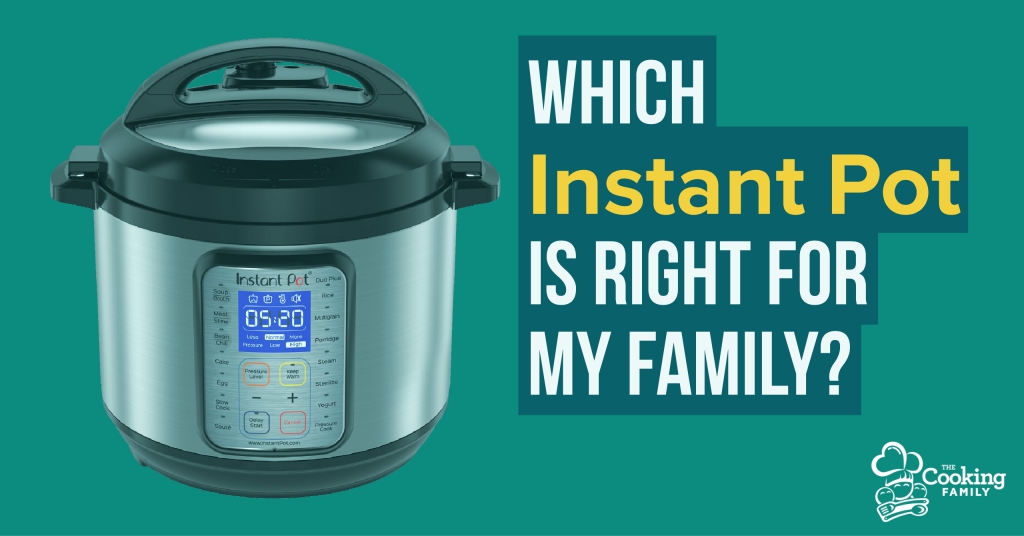 There are several sizes and lots of variations in features among the different models, and even non-pressure cooker products now. So the question I see most often right now is, "I have a family of ____, which Instant Pot should I get?"
The answer really comes down to two simple questions.

What do you want to make?

Who do you want to make it for?
So let's break this down as simply as possible. We'll ignore sizes right now and just discuss features.
Part 1 – The Models
The LUX
The least expensive Instant Pot is the LUX model. I don't generally recommend this model, but if price is the ultimate consideration, go for it! There are two missing features that could be important for you to have:
No Yogurt function.

You may not plan to ever make your own yogurt, but you can also sprout grains and proof bread dough in this mode. If you really, truly, absolutely know you'll never do any of these things, then perhaps the LUX is the model for you.

No Low Pressure mode.

 This is the biggest reason I suggest avoiding the LUX. There are a few recipes where I suggest Low Pressure mode, and the LUX doesn't have it.
My personal recommendation is that considering the small price difference between them, these extra features are worth opting for the DUO models.
The DUO
The DUO is otherwise known as the 7 in 1. The DUO moniker comes from having 2 pressure modes. This is the workhorse of the line. The 7 modes are:
Pressure Cooker
Slow Cooker
Rice Cooker
Steamer
Sauté
Yogurt Maker
Warmer
There is also a DUO Plus 9 in 1 introduced in 2017 that has an updated display and adds an Egg mode, a Cake button, and a Sterilizer cycle. It's important to note that these are just pre-programmed functions that the regular DUO is perfectly capable of, just not with a single button push necessarily.
If you find a great deal on a DUO, grab it with confidence. If you find a great deal on a DUO Plus, then definitely get it. But you can't go wrong with either variation.
The Ultra
The Ultra takes the main functions of a DUO and adds an updated interface and control dial to simplify programming the cooking cycle. It adds an Egg button, a Sterilize cycle, and a Cake program. You can also set an exact temperature that you want to cook at, helpful in some recipes and in Sous Vide style cooking.
They also changed the way the pressure valve functions. The lid on the Ultra will automatically seal when you close it, so you don't have to remember to close it every time. This is something I occasionally did, so I appreciate the convenience.
The Max
The Max is the newest Top-of-the-Line Instant Pot pressure cooker. It has many significant differences from the other models. The most important one is that it can cook at 15 psi under pressure, rather than the 12 psi of their previous models. What this means is even faster cook times, as well as the potential to do pressure canning.
There are differences in how it operates as well.  The Max has a touch screen interface instead of only buttons or a knob. And the pressure release valve is now automatic! If you want a quick release of steam at the end of the cooking cycle, the Max will open the valve for you.
They've also added a function called NutriBoost that essentially "stirs" your food. The company claims this adds flavor to things like soups and broths. I've not tested this, but it seems valid in theory. While under pressure, the Max will release quick spurts of pressure. This change in pressure in the pot will agitate the food inside.
If these extra features seem like what you're looking for, or if you're one who likes the best, the Max is the way to go. It's only available in a 6 quart model at this time.
The Nova Plus
The Nova Plus is essentially a Duo Plus (minus some unimportant presets), but available exclusively at Costco. If you're a Costco member in the market for an Instant Pot, you'll likely be pleased with this model.
The Viva
The Viva is a QVC exclusive model (although I recently saw it at Sam's Club). It's pretty much the same as the DUO, but it adds the "Cake" and "Egg" preset programs. They also offer it in some fun colors that you can't get anywhere else. Personally, I rarely use the preset programs. I mostly just use the "Manual" mode (some models call it "Pressure Cook") so I wouldn't make my decision based on this model having those programs.
But if you were in the market for a DUO and like the colors and price, go for it!
The Smart
The Smart model takes the main DUO functions and adds a slew of customizability. It has a control app for smartphones and connects via Bluetooth. This is the ultimate tinkerer's model.
It is infinitely programmable using scripts, so you can actually write a program where the food might pressure cook on high for one hour, then slow cook for 3 hours, and then pressure cook again on low for another 30 minutes. If you need this level of control, you want the Smart. Personally, it's overkill for me.
The Gem, Aura and Aura Pro
These are not pressure cookers. They are very good multi-cookers, but be aware they do not do what the Instant Pot name has become famous for.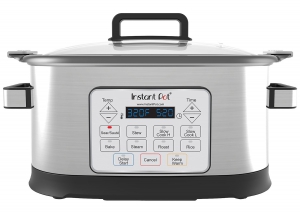 They were meant to be a nice replacement for a slow-cooker or roaster. You get the Instant Pot micro-processor control in a different form-factor, so you can set a timer delay for your cooking program. The Gem and the Aura have a non-stick insert instead of the stainless steel that the pressure cookers use. You can also sauté right in the non-stick insert. The Aura Pro is larger and has a stainless steel insert.
The Aura and Aura Pro have more advanced features than the Gem. They can do just about everything the pressure cooker models can do except pressure cook. If I were looking to purchase a slow-cooker with some extra features, I would definitely consider one of these models.
But if you're looking for an "Instant Pot" because you've heard everyone raving about it, these are not the models to get.
Part 2 – The Sizes
This is where the "I have a family of ______" question comes in. Depending on the model, the primary sizes available are:
The most important consideration in determining which size you need is that with pressure cooking, you can only add food to 2/3 full. So the pressure cooking capacity is actually a good deal smaller than the actual size of the pot.
For instance, the maximum amount of food you can pressure cook in a 6 quart pot is 4 quarts. If you go for the 8 quart, the capacity to pressure cook is 5 1/3 quarts. And likewise, the 3 quart size would only hold 2 quarts of food for pressure cooking.
The second most important consideration in determining size is cook time. With pressure cooking, all models will cook the food in the same amount of time, but the larger the model, the longer it will take to reach pressure and also to release pressure. It's not a terribly long time, but when I'm behind schedule on starting dinner, I'll reach for my 6 Quart every time.
The first model I got was the 6 Quart DUO. I later got the Ultra and most recently added the 8 Quart DUO. Most of the time, I'm using one of my 6 Quart models. I do have a large family of 9, so when I cook a meal in the 6 Quart, we pretty much polish it off. When we use the 8 Quart, we'll have leftovers (until I have more teenagers in the house).
Here are some of the things you can cook in a 6 Quart model:
A whole chicken
Two pounds of dry beans into a huge pot of soup
Almost 4 dozen eggs hard-boiled
4 cups of steel cut oats comfortably
One Pot Pasta with 1 lb of pasta, 1 lb of sausage, and plenty of sauce
Bone Broth, about 3 quarts per batch
Summary
As you can see, there are a lot of variables, but I think most people fall into the DUO or Duo Plus 6 Quart model.
If, on occasion, you like to batch cook for freezing or serve a large group of people, I would recommend the 8 Quart. I love having one for just this purpose!
But if you are an average sized family that doesn't care if you have leftovers, the 6 quart would probably serve you well. And if there's only one or two of you, the 3 Quart may be the best option. But you'll find most recipes are written for a 6 Quart so the Mini will take some recipe modification.
I hope this little guide helps you figure out which model you'll be happiest with. The important thing is just to get one! There are so many great things about the Instant Pot! The Instant Pot has certainly changed how I feed my family, and I know it can help you too!