Last updated on September 21st, 2018 at 05:53 pm
For years, I was a slow-cooker fan. I remember the day when I got my big All-Clad model with the insert that you could put right on the stove to brown meat. I coveted and longed for that tool for months before buying it on sale.
And I still like to pull it out every now and then, if for no other reason than to justify keeping it, because it is beautiful. But ever since I got my
Instant Pot
, the poor slow-cooker has been more of
no-cooker
.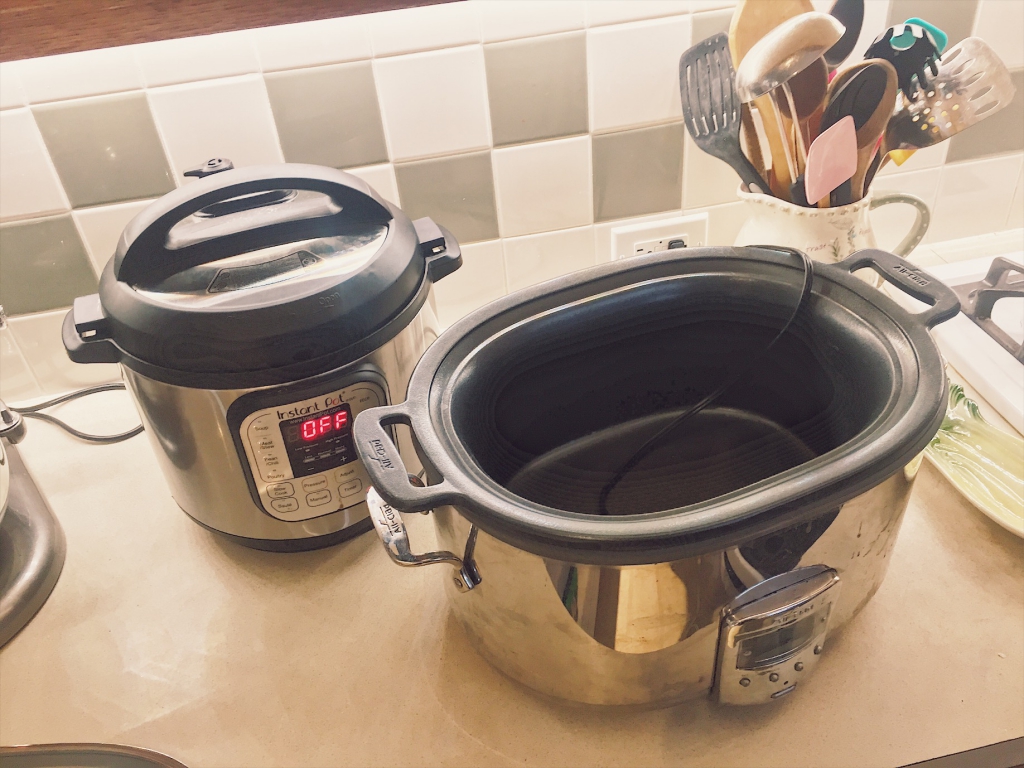 Here at The Cooking Family, one of our foundational principles is that you only need a small set of the right tools to enjoy great meals together. You don't always need the "next big thing," and you especially don't need uni-taskers.
But even though the
Instant Pot
is the current "latest gadget," it is one I would say is a must-have tool. Seriously. If you told me I could only keep 2 things in my kitchen, I'd keep
my Wüsthof knife
and my Instant Pot. As a mom of 7, I oversee 189 meals per week! But the
Instant Pot
ensures I don't spend all day in the kitchen (unless I want to 😉.)
Even though it seems everyone is talking about the Instant Pot, I know many people don't understand the hype. And I get it. I didn't understand at first. At least once a week, someone will ask me, "What's so great about the Instant Pot? I'm afraid I'll blow my kitchen up!"
You won't. Today's electric pressure cookers are so much different than the tank-like pots that graced our grandmothers' stoves.  I've compiled a list of things I love about mine. This list is certain to grow, and I'll update it as I discover new things. There are many features I haven't even explored yet. (Like ribs or lasagna!) (Updated 7/11/18)
Here's why you need an Instant Pot
Tough meats braise to slow-cooked, fall-apart perfection in a fraction of the time.
Soups and sauces taste richer, as if they've been simmered for hours. My hubby says the Instant Pot makes "second-day soup" flavor on day one.
One-pot pasta dishes that cook while you go for a walk with your kids.
Rich, nutritious bone broth in a couple of hours, instead of overnight.
Steel-cut Oats without babysitting them on the stove.
Spaghetti Squash cooked whole! No more splitting them with an axe!
Mashed Potatoes on a Tuesday, because my 10-year-old wanted to make them.
Dried beans to cooked beans in about an hour. No overnight soak!
Steamed Sweet Potatoes that are the best you've ever tasted. In much less time than the oven.
Hard-boiled eggs that are so easy to peel, a 3-year-old can do it.
You can brown meat and sauté veggies directly in the pot before pressure cooking—no need to dirty another skillet on the stove.
Thicken sauces and soups after cooking by using the sauté function again. You have much more control over this machine than a slow-cooker.
Stainless steel insert is tough—no scratching by metal utensils like a non-stick insert. It also cleans easily, even if you get a couple of scorched spots.
Food tastes better. I have read a couple of theories about why this is, and I know it's a subjective thing. Some theorize that the pressure inside the pot forces the flavor to stay in the food, instead of escaping into the air in your kitchen.
Cooking in the Instant Pot doesn't heat up your house. In Texas during the summer, this is a top 3 reason.
Safety features are built-in by the manufacturer, to ensure you won't blow up or burn up your kitchen. This thing is seriously safe.
Kids and dogs love the choo-choo train steam release ;-).
If you have the DUO, you can make yogurt or proof bread dough, and the yogurt can be organic for a lot less money.
Cheesecakes turn out creamy and delicious in the Instant Pot.
With the Ultra, you can set specific temperatures and customize your cooking.
The Keep Warm setting allows us to put a meal in the Instant Pot, head out for a quick trip to the park or the pool, and come home to a hot, delicious dinner.
I can make steel-cut oats for breakfast, brew up homemade bone broth by noon, and prepare a hearty Texas Chili made with dried beans for dinner. Try doing all that in the slow-cooker! Impossible!