This is a family favorite that has lots of options for different dietary needs. It's fast, delicious, and it's so easy, the kids can make it!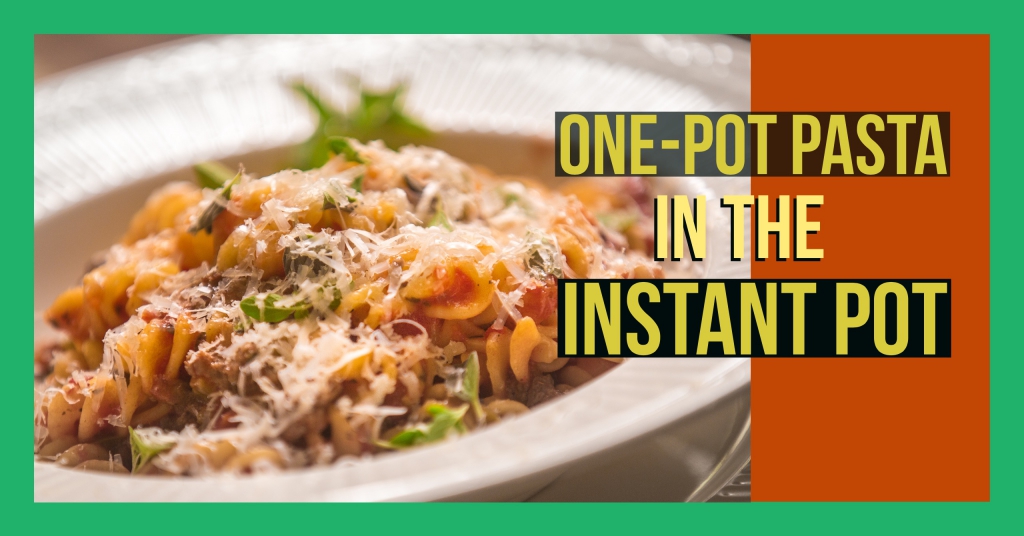 You have two options with this dish:
Easy
Extra-super-duper-come-on-this-is-way-too-simple-give-me-a-break easy
Which version you make depends on what ingredients and time you have on hand. If you choose the super easy version, you only need three things (well, four if you count water.) If you have a little extra time (like, literally 3 minutes) you can make your own sauce, and I've included my go-to recipe. It's super-quick and tasty. And if you want to really jazz it up, there are all sorts of things you could add-in to take this up another notch!
We cooked this live on our Facebook page, so you can watch this video to see us prepare it from start to finish in about 20 minutes, and see which jobs kids of all ages can help with.
Kitchen Tools used:
6 quart Instant Pot
OXO Wooden Spatula
Cut Glove
Knife
Chopper
3 Easy Ingredients:
Italian sausage or any other ground meat
Spaghetti Sauce (jarred or follow recipe below)
Pasta (16 oz.), any type
Spaghetti Sauce:
Let's talk about this. That jar of spaghetti sauce in your pantry is really convenient. Just dump it in and move on. There are definitely times when I need that simplicity. And personally, even if I have a jar of sauce I want to use, I'll add onions and peppers, because I usually want more than what they put in the jars. But this little homemade sauce is so easy, (not to mention affordable) that I think you'll find yourself saving the jar for emergencies. In just a few minutes you can have a healthy, delicious sauce with fresh ingredients.
And if you teach your kids to make it, it's even easier than that expensive jar!
1 T. olive oil
1 med. onion, diced
1 green bell pepper, diced
2-3 cloves garlic, minced
Italian seasoning—1 tsp. each, dried basil and dried oregano, 1/2 tsp. fennel
2 t. sugar, optional, to cut tartness in tomato sauce
1 can crushed tomatoes (28 oz.)
28 oz. Water or Chicken Broth (Measure with the empty can after you add tomatoes.)
(Here's our method for homemade Bone Broth)
Instant Pot Settings
Manual
5 min
High Pressure
QR
If these words are confusing to you, read on for the step by step instructions!
Super Easy Directions:
*Rule of thumb for cooking pasta in the Instant Pot: Pasta cooking time is HALF the lower cooking time on the pasta package. Round down if it is an odd number.
Example: Box says 8-9 minutes, set Instant Pot cooking time for 4 minutes. If box says 7-8 minutes, set IP cooking time for 3 minutes.
Press <Sauté> to turn Instant Pot on and begin heating it up.
If meat is lean, drizzle olive oil in bottom of heating pot.
Brown italian sausage (or other ground meat, if using) in pot.
If using jarred spaghetti sauce, pour sauce in and add slightly less than 1 1/2 jars of water. This recipe is based on a total of about 56 ounces of liquid, and sauce jars vary in size. Skip to step 9.
If you are making your own spaghetti sauce, add basil, oregano, and fennel to browning meat.
Stir in onions and bell peppers, and saute for 2-3 minutes. Add garlic and stir in for 1 minute.
Add pasta and crushed tomatoes.
Fill empty can with 28oz fresh water or chicken broth and pour into IP (Instant Pot) over the pasta, sauce, and meat.
Stir this all together, and try to push as much pasta down into the sauce as possible.
Place lid on Instant Pot and lock it in place.
Check to make sure valve is on Sealing.
Press <Keep Warm/Cancel> to turn machine off from sautéing meat.
Press <Pressure Cook> or <Manual> and then <+> or <-> to adjust time to HALF of lowest minutes of cooking time indicated on the box of pasta.
Wait 10 seconds. Pot will beep to let you know it is starting to heat up. It should take approximately 12-15 minutes to come to pressure. The number of minutes that were entered will appear on the screen and begin to count down to zero.
Carefully, keeping face and hands away from the valve, move it to Venting. This is a Quick Release. Should any starch or sauce begin to spray out, simply close the valve and wait a couple of minutes. Carefully open valve and release steam in small spurts, watching to make sure starch is not spraying out.
After it is cooked, stir well and taste test. Be careful! It is extremely hot immediately after you release the pot. If you find it tastes too tart, sprinkle in 1-2 teaspoons of sugar to cut the acidity of the tomatoes.
*Note that jarred spaghetti sauce often contains sugar already.
Variations
Cajun Jambalaya Pasta: Use sliced smoked or andouille sausage instead of Italian Sausage. Add diced onions, bell pepper, and celery, garlic, thyme, and bay leaf. Crushed or diced tomatoes instead of sauce. Use chicken broth instead of water. Add red pepper flakes or sauce to taste.
Florentine Pasta: Add frozen chopped spinach and cooked, drained beans (garbanzo, kidney, or cannellini).
Gluten-free pasta works great.
Low-carb/Whole food version: Use cooked Spaghetti Squash as the pasta. Put in and stir as directed above. Set on Manual, high pressure for 2 minutes, and Quick Release. Sometimes spaghetti squash can make it a little more liquidy. If this happens, simply turn your pot on to Sauté and cook off some of the extra water. Make note and consider reducing water a little next time.
We love to hear reports. Let us know how it turns out in the comments below, or on our Facebook page.
Have a great dinner together!