Last updated on September 21st, 2018 at 05:45 pm
The only thing I love more than the taste of this recipe is how simple it is to throw together. It's so easy, it feels like cheating to even call this a "recipe."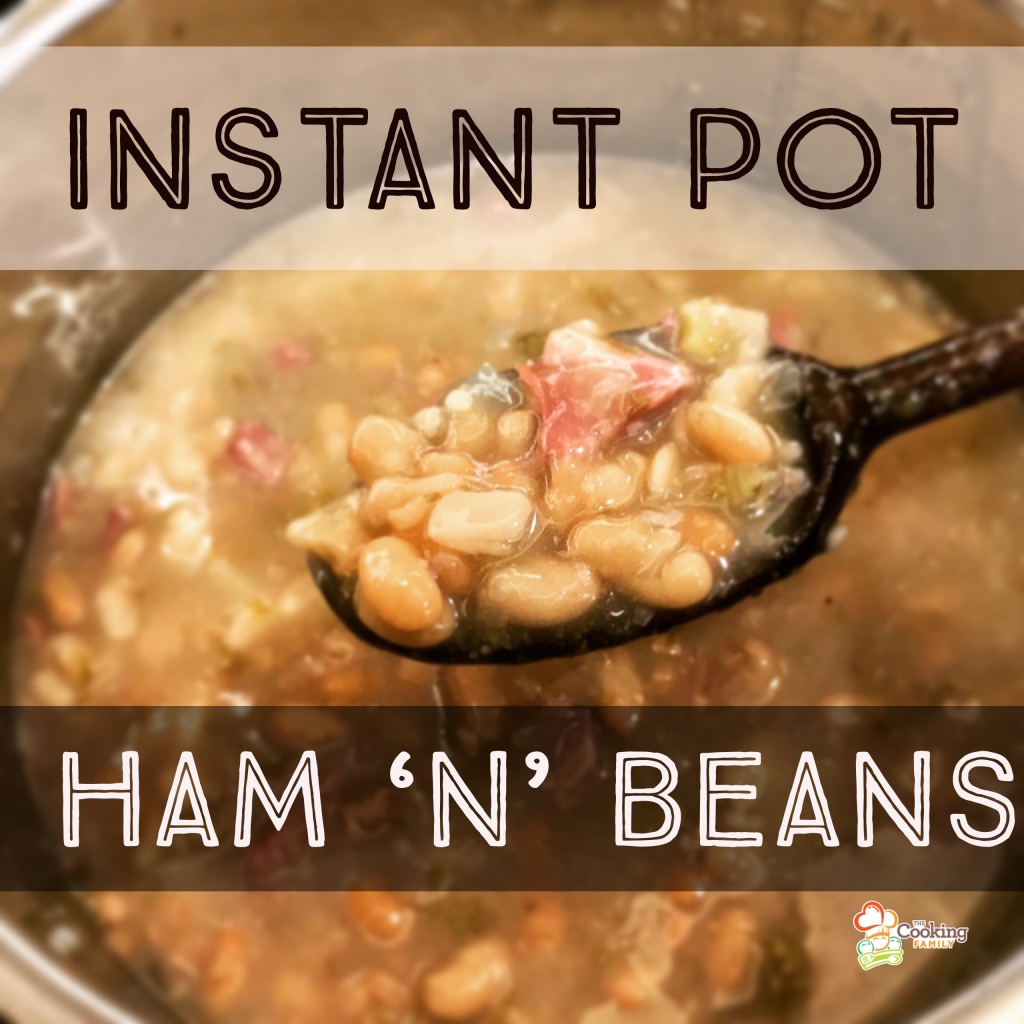 Here's all you need for this super easy recipe:
Tools Used
Ingredients
a spiral-sliced ham or leftover

ham bone

a bag of

dried beans

. A two-pound bag of Great Northern beans is what I used to make this in an 8qt., but any kind of beans would be great cooked this way–pintos, navy, black beans–use whatever you have and whatever you like.
An

onion
Instructions
Cut the meat off the ham bone.

Eat a little while you cut it off (optional). Freeze that ham meat, you won't need it for this dish. There should still be plenty of meat on the bone.

Dice up the onion

 and throw it in your pot with the rinsed dried beans and the ham bone.

Fill up your Instant Pot with water

to the 5-liter line in the 8 qt., or the 3 to 3.5-Liter line in a 6qt., or Pressure Cook MAX line.

Set pressure cooker

on <Manual> or <Pressure Cook> for 30 minutes. Natural Pressure Release (NPR) for at least 10 minutes before releasing the remaining steam.

This is an important step in making sure your beans are cooked.

NPR time is cook time.

If you do a Quick Release as soon as your timer goes off, your beans won't be done!

Remove ham bone

to a plate or cutting board. Pick the meat off the bone and remove the fat, gristle, etc. Return the meat to the pot.

Salt to taste after cooking

. Usually our ham bone adds enough saltiness that I hesitate to add salt before we are at the table. Different ham bones are a huge variable in the salt factor. If you feel your beans need salt, add it!
About cooking beans: When determining cook time for beans, there are several variables that can be at play:
Type and Size of Beans
Altitude
The Age of your Beans (older will need more time)
Additionally, acidic ingredients can also slow down the cooking of beans. Cured meats, including ham, are acidic, so the beans may take longer to cook.
Remember: The amount of time naturally releasing the pressure of the pot is time that the beans are still cooking, so don't release pressure for at least 10 minutes after the programmed cooking time.
Also, I have often released the pressure on a pot of beans and then opened it up to find some crunchy beans on top, only to find the ones underneath are actually soft and done to my liking after stirring. This is because those beans on top are not fully submerged in water during cooking. So when testing for doneness, stir the entire pot well before tasting. In the end, it also comes down to your personal preference. Some people like their beans more "al dente," while others may prefer soft and mushy.
My advice then would be to start at 30 minutes as a minimum, but maybe add more time under pressure or allow a full natural release of pressure if your beans are large, old, or you know you like your beans more done.
Note: I made this in the 8 qt Instant Pot. If you have a 6 qt, you may want to just do one pound of beans and fill to the 10 cup line close to 4-liter line.
Recipe Variations
The wonderful thing about this recipe is that you can change this soup to your liking! Try using other types of beans, such as black, pinto, navy, or red.
If you want a more complex flavor, you can add aromatic vegetables like diced celery, bell peppers, carrots, and/or garlic. Other seasonings we have enjoyed in our beans are bay leaves, oregano, or thyme. But these are totally optional, it's delicious on its own!
This Ham and Beans dish really hits the spot right away, served with hot cornbread, and it's even better as leftovers!