Last updated on July 28th, 2019 at 11:01 pm
It's finally our favorite season around here. Even though it's 90 degrees in Texas right now, when we start to see Pumpkin Spice everything, we know it's SOUP SEASON!  We've always loved soup, that's one of the reasons we love our Instant Pot so much. It speeds up the stewing time and gives the flavors a good pop!
Several years ago, we were at Carrabba's and I had their Sausage Lentil Soup. It was so good! I've spent the last few years trying to re-create it, and I think we've finally got it really close! I love working up recipes because I get to eat the results. 😉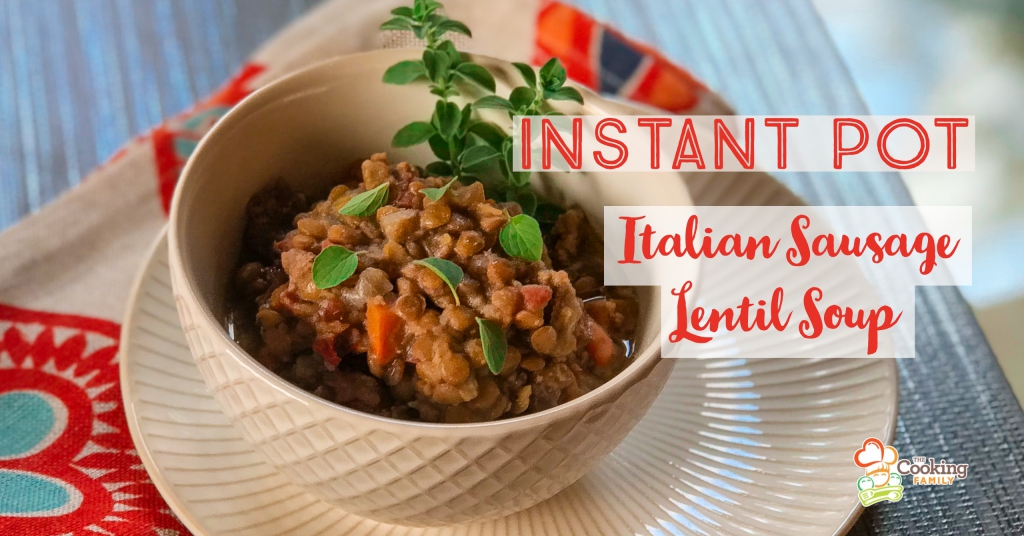 This is a hearty and nutritious dinner for the whole family. Lentils provide lots of protein, fiber, iron, and B vitamins!  And it's delicious! Everyone in our family gobbles up the first bowl and wants seconds, including the toddler! In the Old Testament of the Bible, Esau sold his birthright for a bowl of Lentil stew—so you know it must be good!
Lentils were the first thing I ever cooked in a pressure cooker, and they won me over to pressure cooking because they cook so much faster than on the stove or in the slow cooker, and with no laborious babysitting of the pot to make sure it doesn't boil over or burn on the bottom. This soup comes together quickly and easily in the Instant Pot. We have also included instructions for slow cooker and stove top below.
This is a great meal for the whole family to work on. Kids can do so much with this recipe. My nine-year-old son makes the chicken stock. 6 year-olds can fetch and open cans. Toddlers love to sort beans and lentils. With good training in knife skills, older children can dice the aromatics.
This recipe works well in the 6 quart Instant Pot and yields 9 hearty servings. We call it Throw & Go because you can literally throw all the ingredients in and walk away. Come back in about 30 minutes or so to release pressure and eat some yummy soup!
Tools Used in this Recipe
Ingredients
1 lb. Italian sausage, browned
1 medium onion, diced
2-3 stalks celery, diced
2-3 carrots, diced
1 medium bell pepper, diced
6 cloves garlic, minced
1 teaspoon oregano
1 teaspoon basil
1 teaspoon fennel
1 lb. lentils, sorted and rinsed ("sorting" means looking through the dried lentils and picking out any rocks or sticks that may have come from the field)
Diced tomatoes, 14 oz can
8 cups (2 quarts) unsalted or low sodium chicken stock (Here's our method for homemade Bone Broth)
Salt to taste
Instructions
Turn on Instant Pot to <Sauté> mode to begin heating everything while you throw all the ingredients in the pot.
Cook on Soup setting/High pressure/15 min/10 min NR.
Detailed Newbie Instant Pot Instructions:
Close lid of Instant Pot. Check valve and make sure it is on <Sealing>.
Turn off Instant Pot if it's still on Saute mode.
Turn Instant Pot ON to <Soup> program.
Adjust the time to 15 minutes at high pressure by pressing <+> or <-> on the front of your Instant Pot.
Allow Pot to Natural release for at least 10 minutes.
Stir well and taste. Add any needed salt and pepper to taste. A splash of Tabasco really hits the spot!
*********************************
Stove Top Instructions:
 In a large dutch oven or soup pot, brown Italian Sausage. Spoon off any unwanted fat. Reserve about 1 tablespoon of oil in the pot. Add aromatics: onion, celery, carrots, bell peppers. Sauté for 5-10 minutes, or until onion is clear, and carrots are tender. (Not mushy, but tender.) Add garlic, oregano, basil, and fennel and sauté for 1 minute. Add tomatoes and stir well while continuing to sauté mixture for about 2 more minutes. Stir in chicken stock and lentils. Simmer on stove for 25-30 minutes, or until lentils are cooked through. Add salt to taste.
Slow Cooker Instructions:
 Brown Italian sausage in a skillet. Drain excess fat and place in slow cooker insert with all other ingredients. Cook on Low for 6-8 hours or high for 4-5 hours. Stir and taste. Add salt to taste.