Last updated on September 21st, 2018 at 05:46 pm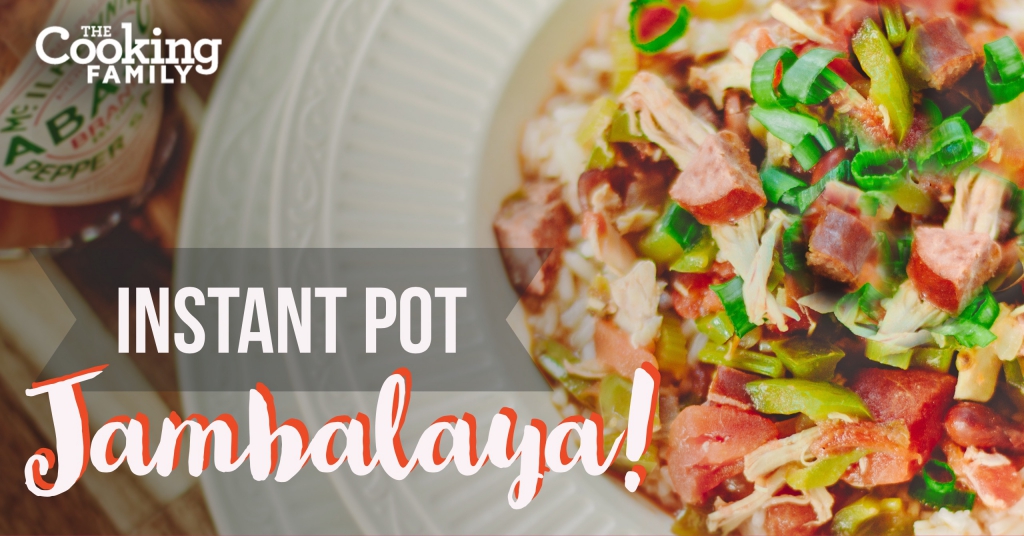 My husband's family has a long and rich heritage in south Louisiana, so cajun dishes are frequently enjoyed at family gatherings. Now, authentic cajun fare is usually a bit too spicy for my younger kids, so I adapted this recipe to give us all the yummy ingredients without the kick.
Traditional Jambalaya is typically cooked with rice combined with all the ingredients. I like to cook my rice separately for a couple of reasons:
It extends the refrigeration shelf life. Rice already mixed in will get mushy and unappealing after a day or so.
We can portion out the rice for different dietary needs. My husband and I don't eat as many carbs as my kids, so I can serve it with limited rice, or it's delicious with no rice at all!
This is a great recipe we eat a lot. It freezes really well, so I'll often make big batches so I can pull a zip top bag from the freezer when I need a quick, hot meal.
Tools Used
Instant Pot
Cut gloves Essential kitchen tool, for adults and children alike
Wusthof 7″ Santoku knife
Kuhn Red 5″ Santoku knife Great for small hands and little helpers.
Wooden cutting board
Oxo large chopper
Mesh strainer
Wooden spoon (Berard) My favorite kitchen spoon, it has a nice pointed tip so I can really get into the corners of my dish. And the olive wood is beautiful!
Ingredients
2 tablespoons olive oil
1 onion, diced
Salt, if using unsalted chicken broth
3-4 stalks celery, diced
1 green bell pepper, diced
3-4 cloves garlic, minced
1/2 teaspoon thyme
2 bay leaves
1 qt. chicken broth, unsalted or low salt (Here's our method for homemade Bone Broth)
2 (15 oz.) cans diced tomatoes, undrained
3 cups cooked, diced chicken
1 (14-16 oz.) smoked sausage or andouille sausage, sliced or cubed
1 can (15 oz) or 1 1/2 cups cooked kidney beans, drained and rinsed
Serve over your choice of rice, quinoa, pasta, cauliflower rice, spaghetti squash, etc.
This is a great recipe for kids to help with. Watch and cook along with us!

Directions
Turn Instant Pot on Sauté
Drizzle olive oil in pan, and allow it to heat up until the oil shimmers.
Add onions and stir.
Season with about 1/2 teaspoon salt, if using unsalted broth. Omit salt when using salted broth, bouillon, or chicken soup base.
Add celery and bell pepper. Stir.
Sprinkle in thyme and bay leaves, and stir into vegetables.
Stir in smoked sausage and continue sauteeing.
Add garlic and saute for 1 minute.
Pour in chicken broth and diced tomatoes. Stir well.
Mix in kidney beans and chicken.
Close lid.
Check valve and set on "Sealing."
Press <Cancel> to stop sautéing.
Press Manual.
Change time to 4 minutes.
Keep pressure at High pressure.
Pause and wait 10 seconds for Instant Pot to beep, indicating that it is on and your food is heating up. It should already be fairly warm, since it has been sautéing and is already hot.
It should take approximately 10 minutes to come up to pressure. The display screen will say "On", then the float valve on top (silver circle) will pop up. A minute or two later, pressure will be reached, and the timer on the display will show 4 minutes, and begin counting down.
When the timer reaches 0, the Instant Pot will beep and the display will begin counting up. It is now keeping the food warm and the pressure is Naturally Releasing (NR) as the temperature slowly begins to come down. When ready to open the pot, carefully change the steam release valve to Venting. Steam will pour out. Cover with a towel if desired, and always keep hands and face away from the hot steam.
When float valve drops, open the lid and serve jambalaya over desired bed of rice, quinoa, pasta, cauliflower rice, spaghetti squash, etc.
Laissez les bons temps rouler! (Let the good times roll!)
If you want to spice it up, add the hot sauce of your choice. My hubby and I enjoy liberal amounts of Tabasco, and a sprinkling of cayenne pepper.
Have a great meal with your family!