Last updated on September 21st, 2018 at 05:36 pm
What is the perfect recipe for hard boiled eggs in an Instant Pot? Many friends have become mortal enemies debating this issue, so we're going to clear it up for you right now.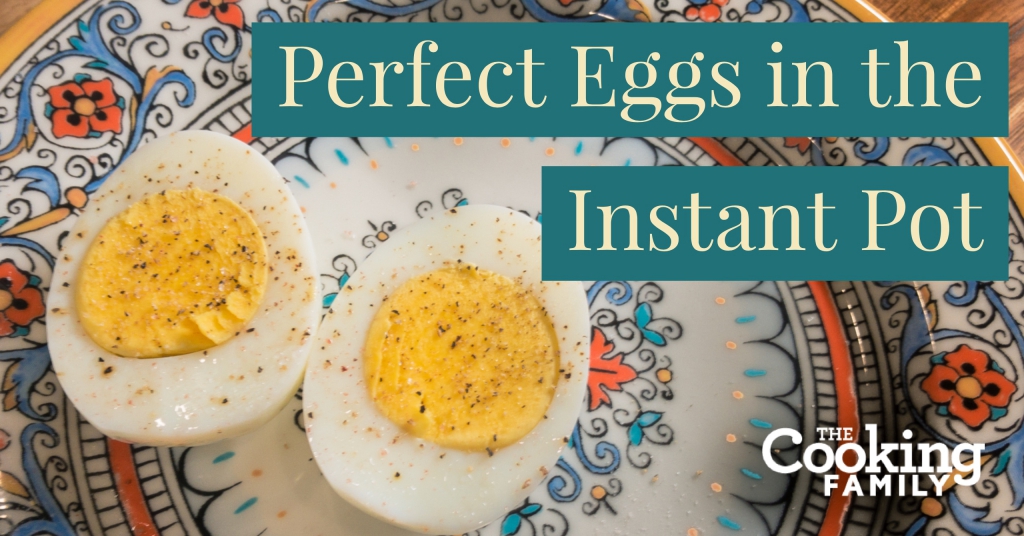 I'm going to give you…The Perfect…recipe for hard boiled eggs. Are you ready? Do you have something to write this down?
Here it is:
You're gonna have to figure it out for yourself!
Here's why.
My idea of perfect likely won't match yours.
There are many variables that determine how an egg turns out. No two batches will ever be exactly the same.
So I'm going to give you a starting point for how we do our eggs, and then I'll tell you what factors will affect the result.
Do you need to cook a LOT of eggs at one time? Then check out our epic eggs-periment! You'll be amazed at how many you can cook in one batch!
You may end up having to get very creative to eat all the eggs you end up with after your tests, but you'll eventually have YOUR perfect egg recipe.
The Recipe
Here are my step-by-step directions  for a complete rookie Instant Pot user:
Use as many eggs as you need to cook, arranged on the trivet that came with your IP.
Pour 1 1/2 cups cold tap water in pot.
Close Instant Pot and set the valve on top to 'Sealing.' Press

<Manual>

or

<Pressure Cook>

or

<Egg>

.
Press

<Pressure>

to change to

LOW

pressure.
Press the minus sign

< – >

to set the time to 5 minutes. Wait about 10 seconds. It will beep when it starts. The Instant Pot will say 'On' on the display. The pot is heating and when it rises to pressure, the float valve will pop up. The display will show the time you entered (5 minutes). It will count down and beep when finished.
When it beeps, immediately 'quick release' (QR) the pot and turn the valve to 'Venting'. It sounds like a steam locomotive!
Then open the pot and use pot holders to pull the insert out and place just the stainless steel insert in the sink.
Fill with cold water, drain as much as possible, refill with more cold water and ice.
Peel those beautiful hard boiled eggs.
The Variables
There are 3 primary variables that you'll need to experiment with.
1. The Egg Size
You'll find differences among your eggs. Even though all the eggs we purchase are labeled "Grade A Large", some store's eggs are smaller than others. The larger the egg, the longer it will take to cook.
2. The Egg Starting Temperature
Do you keep your eggs on the countertop at room temp, or do you keep them in the fridge? The colder the egg at the beginning, the longer it will take to cook.
3. The Tap Water Starting Temperature
Our tap water in Texas is very warm in the summer time, while my mom's well water in Indiana is a cool 45 degrees year-round. The colder your starting temperature, the longer it will take to come to pressure, which adds time that the eggs are cooking.
We've tried before putting hot water in to start, and our finished eggs weren't cooked enough. Just use cold water for consistent results.
Those are the main variables that you can control. There are also 2 significant variables that you can't: Your altitude and the weather.
I've had batches not turn out like I expected because of changes in air pressure from weather patterns. And if you live in high altitude, you probably already know how to adjust your settings.
How to Perfect Your Recipe
So now you just experiment. Start with the 5 Minute method described above and make a note of your results.
Do you have a grey ring around your yolk? Your egg is overcooked. Try reducing your cook time by a minute and test again.
Is your yolk still too runny for your tastes? Try adding a minute and test again.
The other variable you can experiment with is how long you let it Naturally Release before you Quick Release.
Just make notes on what you did for each batch, make adjustments next time, and you'll soon have your perfect egg recipe for your kitchen!
So, which settings ended up being the best for you? Leave a comment with your results!