Cutting up hard winter squash to roast is my nemesis! In the Instant Pot, you can cook it whole, with ease!
Spaghetti Squash is fabulous as a side dish on its own, but because it has a neutral flavor, you can serve it with tons of different toppings and flavors!
We love it plain, with butter, salt, and pepper, or topped with our Texas Chili or Spaghetti Sauce.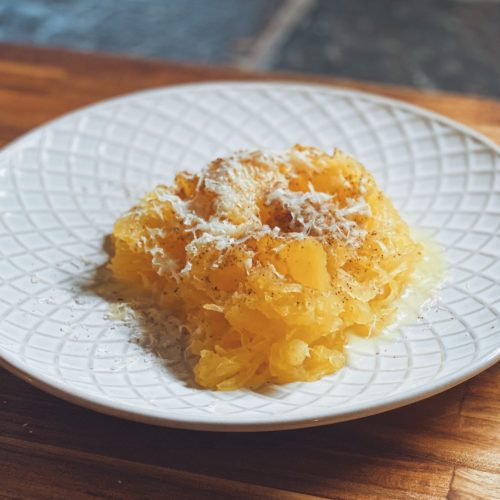 No-Chop Spaghetti Squash in the Instant Pot
Use this shortcut way to cook delicious Spaghetti Squash in your electric pressure cooker.
Ingredients
1

Spaghetti Squash

1-2

cups

water
Instructions
Remove any produce stickers from outside of spaghetti squash and rinse outside of spaghetti squash.

Place trivet in the pressure cooker insert.

Place whole spaghetti squash on top of the trivet.

Check that the sealing ring is secure, and place lid on Instant Pot or other electric pressure cooker.

Make sure steam release valve is set to [Sealing].

Press [Pressure Cook] or [Manual] to select cooking program.

Check pressure level and adjust to [High Pressure], if applicable. (Some pressure cookers have High and Low pressure settings, some only have one setting.)

Set pressure cooking time to 20 minutes by pressing the [+] or [-] buttons to adjust the time.

Start Instant Pot by waiting ten seconds for your pot to beep, turn on and start heating up. ~OR~ Some machines have a [Start] button which you have to press to start the machine.

When the pressure cooking time ends, you can either Quick Release the pressure or allow the pressure to naturally release.

Note: The squash will continue to cook while naturally releasing, and will be more "done" than if you quick release the pressure manually. This is a matter of preference on how you like your spaghetti squash; some like it more on the crunchy side, some prefer it softer. If it is more crunchy than you like, you can always place it back in the pressure cooker and cook for another few minutes.

Using hot pads, carefully pull the cooked spaghetti squash out of the Instant Pot and place on a cutting board.

With a large, sharp knife, cut the spaghetti squash in half. I usually cut vertically, through the stem, but if you want your strands to be longer, you can cut horizontally through the equator.

Scoop out the seeds and pulp from the middle and discard.

Next, scoop out the cooked spaghetti squash. Season with butter, salt, and parmesan cheese and enjoy. Or use in another dish like One Pot Faux-getti Pasta.
Notes
I use cooked spaghetti squash as a side dish, seasoned with butter, salt, pepper, and parmesan cheese. It is also fabulous topped with salsa and cooked, diced chicken. This versatile veggie can also be substituted for pasta or rice for a low-carb version of your favorite entree or casserole.
Nutrition
Calories:
60
kcal
Carbohydrates:
13
g
Protein:
1
g
Fat:
1
g
Saturated Fat:
1
g
Sodium:
35
mg
Potassium:
209
mg
Fiber:
3
g
Sugar:
5
g
Vitamin A:
232
IU
Vitamin C:
4
mg
Calcium:
44
mg
Iron:
1
mg